Best Promotions of the Year in Minor League Baseball – 2014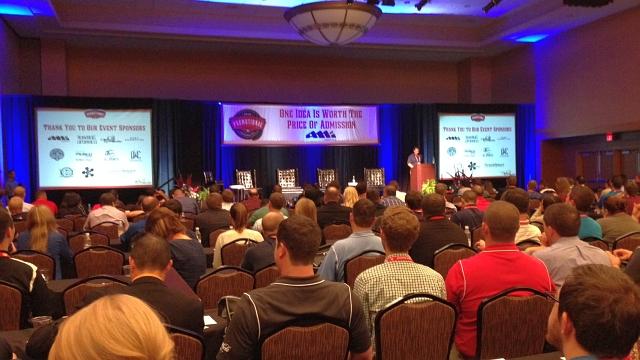 State College Spikes - "Serving the Kool-Aid"
Each of the last 2 years, they've done a bobblehead of the Penn State head football coach, playing into the passion of the local fan base. It's the largest pre-sale of the year... 1,000 bobbleheads were given away in the first 7 minutes, and those who didn't but still wanted one were able to order one for $15 at the gift shop.
Myrtle Beach Pelicans - Prostate Cancer Awareness Night
1,000 foam fingers were given away to the first 1,000 men, and GM Andy Milovich was given a live prostate exam in the press box in the 7th inning while singing "Take Me Out to the Ball Game". Many people told Andy that they went to get an exam because of the promotion, and the power of the franchise to save lives was at its best.
Gastonia Grizzlies - "Restaurant Rainout Sponsor"
Restaurant sponsor for a rainout... phone calls start like this: "Hello, the Grizzlies game is rained out... make sure to go to X for 45-cent wings."
Richmond Flying Squirrels - "Richmond Flying Circus"
Opening Day 2014 - The squirrel mascot flew in on a zipline, and "Parney" (Todd Parnell, GM) jumped through a ring of fire on a motorcycle. 'Nuff said.
Brooklyn Cyclones - "Nickelodeon 90's" Night
Slime bucket challenge - entire front office... Double Dare Live (sold packages in advance - $25 for participation pregame) - Mario Kart contest on the field where the staff was throwing banana peels and other distractions at them
Tulsa Drillers - "Mickey Mantle" Night
3rd annual event - gave away commemorative rings (Mickey is from Oklahoma); long lines! Relatives of Mickey also do appearances and sign autographs. Will be doing 2 more rings next year!
Frisco Rough Riders - "T-Shirt Redemption for Dr. Pepper"
Dr. Pepper and Kroger - drove traffic to Kroger in June - if you buy a qualifying Dr. Pepper/Snapple product (12-pack or case), you got a free RoughRiders T-shirt on the ticket, which were redeemed immediately on site at Kroger. Got end cap displays in all Krogers in the area!
Tennessee Smokies - "Nursing Homes"
Noon game - middle of the week - nursing homes were served a brunch, and we had hundreds of people in our cafe - $15 to $20 per head, included game ticket and food. Packed the house.
Johnson City Cardinals - "Oregon Trail Gold Rush Night"
Everything themed toward Oregon Trail... buried gold rings around the infield, and invited fans to trear up the infield. Buffalo Wild Wings mascot was brought onto the infoeld, and kids were given Nerf guns to "hunt" the buffalo. Served bison burgers, dressed up in colonial garb
Tri-City Valley Cats - "ALS"
ALS promotion - bring in Tommy John - brought a dunk tank for the ALS Challenge with the GM, etc.- allowed fans after the 6th inning, anyone who wanted to get filmed doing THEIR Ice Bucket Challenge gotup on our video board.
Reno Aces - "McDonald's Fund Raiser"
Allowed fans to nominate a terrible walk-up song for the visiting players for a donation to Ronald McDonald House... asked for $10 donation, and the average donation was $23!
Syracuse Chiefs - "Dollar Thursday"
1st x introducing it to the Syracuse market - $3 GA, $1 everything. Twentysomethings were at the ballpark in the thousands!
"Tattoo Night" - anyone that would get a Chiefs tattoo with the logo would get into all games free for LIFE! 36 people now have a Chiefs tattoo, and it had to be on a body part that you could show the box office. People you wouldn't expect were in line - professionals, etc. Crazy!
Fresno Grizzlies - "Maker Fair"
Reading program was lacking... reached out to the Maker Fair in our area... people who just build things in their garages, etc. Cardboard creations, a Rube Goldberg Pitching Machine Challenge, etc.
Columbus Clippers - "American Girl" Promotion
Girls and their dolls did a Fan Tunnel with their families... American Girl movie played after the game... raffled off (2) brand new Am Girl dolls. BIG crowd that they wouldn't normally get!
Sales Red Sox - "Nine Innings of Winning"
Built around data collection - give away a broken bat, etc... but what could we do differently? Gave away 9 prizes... one every inning, and it was promoted every inning. NEW group of entrants every time! Sold to Roanoke Times as a sponsorship.
Nashville Sounds -
New ballpark coming next year, so several promotions about the last things that will be done at historic Greer Ballpark. Post #LastYearAtGreer photos - Last Beer at Greer night on the final night; T-shirts were so popular they were auctioned off for $100 each.
Lake Shore (Northwoods League) - "Hunting Dog Competition"
8 hunting dogs competed on the field, finding a rubber dead-duck trainer device and timed for how fast they could retrieve. Each dog had a funny bio on the big screen.
Charlotte Knights - "Commemorative Bricks"
Commemorate a memory or a situation they were in that the Knights were a part of (i.e., "Saw first game with my dad", "Went with our family for the first time", etc.)
Bowie Baysox - "Military Card Set"
Local heroes of all the wars were commemorated on a set of collectibel card; very popular! PLUS - "Moms and Sons Night" (flipped around the Daddy-Daughter concept)
Lowell Spinners - "March of Dimes" for Healthy Babies
Every player wore a jersey in honor of a certain person in the crowd that was affected or helped by the March of Dimes - purple theme (because of their coloe)
San Jose Giants - #ALSIceBucketChallenge
Promotion -- Could dump a bucket of ice water on your favorite player, radio/TV personalities, local politicians, OR someone in the front office. auction was held to be able to dump the bucket! The fan experience of meeting the players was phenomenal... and even met a new NFP out of the event!
Lake Elsinore Storm - "Geek-end" (play on Weekend)
Superhero night... etc. Tie-in to American Lung Association - donate used video game systems to local hospitals - "Storm Wars" Night... live action fights with light sabers... live action role play night - LARPING fights on the field - a full scale battle on the field at the end of a game!
Round Rock Express - "Alumni Weekend"
Inducted into the Round Rock Hall of Fame - plaque in the Hall, giveaways to fans. Autograph session to meet some of the alumni for the past 15 years. Treated the players like GOLD, and fans were very appreciative!
Memphis Redbirds - "Hidden Redbirds"
A play off the #hiddencash - tweeted every inning as to where the prizes were (Tweeted out clues) - gave away first pitch experiences, suite nights, etc.
Altoona Curve - "Wounded Warrior Amputee Softball Team game"
BIG game for this touring all star group and Pirates/Curve alumni - 4,800 people in the ballpark for a pre-game event; inspiring guys on the field! Lots of fan comments positively.
PLUS "Wierd Al"Toona Night - tribute to Weird Al Yankovic
Burlington Royals - "Little League Takeover Night"
Interns got into it - took over two Little League parks for a night - broadcaster, interviews, grandparents on Skype, mascot, players from the team ran out with the players from the LL team... got a LOT of coverage from the local media!
Brevard County Manatees -
Charity Golf Tournament for one of the players whose young child had a rare auto-immune disease. The Brewers were VERY supportive to promote the event AND with boxes of T-shirts and other items. A day was dedicated to him - sold $10 raffle tickets for his game used glove (he was the pitcher that night).
Durham Bulls - "InstaGrammys"
Used the photos from those Instagram photos on the new video boards! Got people to interact and USE the displays and boards as an engaging tool.
Lehigh Valley IronPigs - "Bacon Uniform"
Big demand for new uniforms featuring a piece of bacon.
Bowling Green HotRods - "Off-Season Ideas"
#fun is used a lot... we used the hashtag #funner! We enjoyed the publicity, and families had debates about whether or not "funner" was a word! Lawn tickets were on sale on Pie Day for $3.14.
Eugene Emeralds - "Good Karma Monday"
Fans pick their own ticket price - sponsor: Credit Union - not-for-profits were invited to help sell them... 50% of the ticket price went to the charity that sold the most!
Pensacola Blue Wahoos - "White Tablecloth Dinner"
600 people - white tent in the middle of the ballpark - ARC Gateway as the charity - 150 volunteers - raised enormous money ($250,000) for a local charity! Silent auction, cash bar, classically trained chef, auction items like a pair of Dwight Howard game-worn shoes ($1700)
Charlotte Knights - "Celebrate the Past"
The Knights celebrated several things in Charlotte's past, including the Hornets (basketball), O's (baseball), and reconnecting people from past generations by bringing back the past with a "Mecklenberg County Declaration of Independence" celebration.
Worcester Bravehearts - "Free Parking from your Local Cemetery"
A cemetery sponsored the Bravehearts fans' parking garage spaces throughout the year! A team attendant stood by the pay gate, letting people in for free and passing out a bookmark-sized slip of paper that read, "Tonight's parking has been paid for by (x) Cemetery. Please consider us for your FINAL parking spot." Got a TON of chatter and huge publicity.
Erie Seawolves - "Summer Reading Program"
Local Erie newspaper sponsored a program to encourage kids to read all summer long; included a Harry Potter Scavenger Hunt Night at the ballpark, which included Potter-esque things like a Kids' Stampede around tha bases, a "Catch the Golden Snitch" contest, and a Sorting Hat as they entered to see whcih "house" (section of the ballpark) kids would be able to sit in.
West Virginia Power - "Redneck Night"
Lots of elements, including: Mason jar giveaway, best mullet contest, dirtiest truck, line dancing, Hillbilly Horseshoes (toilet rings), Redneck Sushi (Rice and SPAM) at the concession stand, and a wedding on the field (sponsored by local radio station).
Staten Island Yankees - "Bark in the Park"
Standard bring-your-dog night with a twist: Team adopted a neighboring team's mascot as part of a promotion to encourage pet adoption!
Cedar Rapids Kernels - "Movie Nights"
Local TV anchorman, who looked like the real Ron Burgundy in the '70's, was given his own Bobblehead Night. He dressed up like the Burgundy character, and enjoyed the publicity. Every night as he closed his newscast in Cedar Rapids, there was a close-up of the Kernels bobblehead as a backdrop to the closing credits... priceless publicity!
New Hampshire FisherCats - "Graduating Seniors Night"
Convinced the local high school to move the honor ceremony to the ballpark as part of a group night... sold 3,000 tickets!
Charleston RiverDogs - "35th Anniversary of Disco Demolition"
Titled "Disco Demolition 2", the team re-created the infamous 1979 destruction of disco records dreamed up by the son of then-Chicago White Sox team owner Bill Veeck (Mike), who today owns the RiverDogs team. This time, Miley Cyrus and Justin Bieber records were collected in a giant box and blown up at center field during the intermission of a RiverDogs doubleheader, to the cheers of thousands. (Apologies to our Canadian friends!)
Dunedin Blue Jays - "Charity Bowling Tourney"
Title sponsor covered all the expenses of the tournament (lane rental, shoes, etc.); all players bowled prior to a night game, and wore long red/yellow Ronald McDonald socks in honor of the charity that the event was for (Ronald McDonald House).
Midland RockHounds - "NOT Duck Dynasty" night
Llama races, a Duck Tank, camo jerseys, one jersey signed by all the members of "Duck Dynasty" and raffled off for charity. All who came in camo clothing got an entry into a drawing for a Duck Commander duck call.
Rome Braves - "Parrothead Paradise"
Giveaways, post-game concert
Palm Beach Cardinals / Jupiter Hammerheads - "Halfway to Halloween"
Pre-game candy drop in the outfield, haunted front office, best-dressed dog contest
Gwinnett Braves - "Ric Flair Appearance"
Meet-and-greet with famous pro wrestler; sold 75 VIP experience tickets!
Wilmington Blue Rocks - "President's Day Temperature Ticket Price"
Whatever the 8am temperature was in Wilmington on Presidents' Day (Feb) was the price they paid that day for Opening Day tickets. Helped to sell out Opening Day!
Scranton/Wilkes-Barre RailRiders - "Statue Giveaway Series"
Asked fans to pick the All-Time S-WB Team... immortalized the winners in a multiple statue series giveaway
Tampa Yankees - "Full Throttle Magazine Toy Run"
300 motorcycle riders participated in the promotion; all bikers brought a toy to the game, then got to ride as a group to the local hospital to deliver the toys to sick children. Displayed the 300 bikes on the warning track for a photo op during a pre-game ceremony!
Clearwater Threshers - "Friday Night Concert Series"
moved from Thursdays - '70's / '80's / '90's / Country nights
Springfield Cardinals - "Promo Club"
Sold an add-on to a Season Ticket plan; for an extra $85, STH's can receive ALL the promo items for the entire year! The team used all the extra giveaway promo items for a guaranteed item for a group outing for an extra rate bump of $25. Also used the extra promo items on a Spin the Wheel game in the concourse; for $10, fans got to spin the whee to win a ticket to a future game PLUS one of the giveaway items; made an extra $15,000!
Quad Cities River Bandits - "Diversity Emphasis for Sponsor"
New sponsor - Tyson Fresh Meats - Wanted to show their employees' diversity, so the team did a Global Culture Night; each inning featured a different Tyson employee from a different part of the world, telling their story of how they wound up in Iowa.
Peoria Chiefs - "Golden Baseball Giveaway"
Promotion was done in honor of the team's late President, who was well known for giving individual baseballs to young children as gifts. (500) baseballs with some of the president's quotes were given away at a special game, and golden baseballs were given to young people in the community for good deeds, and redeemable for two tickets to the game.
Harrisburdg Senators - "Cancer Survivor Uniforms"
The names of (100) breast cancer survivors were sublimated onto the background of the Senators' special pink jerseys, and were auctioned off after the game. Each name was part of the design of the jersey, and was repeated 2-3 times within the fabric design (to avoid having a name being hidden by a numeral on the individual jerseys). Extras of the jerseys were also available for purchase, and several were sold.
Lake County Captains - "Major League 25th Anniversary Night"
To celebrate the 25th anniversary of the classic baseball movie featuring a fictional depiction of the Cleveland Indians (the Captains are their Class A affiliate), 1,500 Jobu bobblehead dolls were given away. The lines were out the door to get these bobbleheads! Jobu was a voodoo doll used by Pedro Cerrano, a fictional outfielder for the Indians, to help him to hit a curveball. Among other tributes, the Captains wore special jerseys in the style of the movie, which were auctioned off after the game. They also created a special VIP package that included meet-and-greets with some of the cast members, and suggested to the crowd that if a team knows that something will be popular, you can make a good amount of money with a VIP package, and people will buy it.
Kane County Cougars - "Bubble Ball"
The Cougars invested in these large hamster cage-looking spheres that fans get inside and run around in. They had a race with two contestants starting at opposite sides of the infield (near each dugout), and were told to race to each other's spot. The "joust" in the center of the field was where the two tried to knock each other out, which was hilarious. Bubble Balls are not that expensive.
Arkansas Travelers - "Clunker Boat Night"
Old boats from fans were encouraged to be brought in to display; sponsored by a local boat dealer. Gave away 500 life vests.
Hickory Crawdads - "The CLAWlossal Challenge"
Two people (or families) participate in a one-inning eating contest where the participants must eat a GIANT basket of fried and specialty foods from the ballpark's concession stand. The winner gets their food free, and the loser pays the tab for both meals AND gets their picture up on the team's "Loser Board" in the concourse for the entire season.
Vancouver Canadians - "Post-Season Viewing Party"
Season Ticket holders were invited to the ballpark for the World Series, which was shown on their ballpark TV's. Free food, open bar, merchandise for sale. It was a good opportunity for their ST reps to have a beer with their customers in a casual setting, and develop stronger relationships with them.
New Orleans Zephyrs - "Disco Resurrection"
A new approach to "Disco Demolition"... instead of destroying disco, bring it back in all its glory! Tailgating, a disco ball inside a van, "Soul Train"-style parade on the warning track where everyone participated, "Complete the Disco Lyrics" contest, Roller Derby guys in spandex (the "Disco Amigos" - a real live group of local disco supporters!), and a post-game concert.
Fort Wayne Tin Caps - "4th of July Philharmonic"
Partnered with the local Ft. Wayne Philharmonic Orchestra for a FREE live patriotic concert event at the ballpark with fireworks. 6,500 people attended, and the team did $25K in concessions, with many new people attending the park for the first time.
West Michigan Whitecaps - "Tiger Fridays"
Former Tiger greats did appearances each Friday; sold VIP packages to get autographs without waiting in line.
Cincinnati Reds Spring Training facility (AZ) - "Win a Kia"
They did the classic insured promotion where a target was installed on the outfield wall, and if a player hit the target on the fly, someone would win a new Kia automobile... BUT the ushers were trained to know about the Kia products, and engaged many people in conversations about the vehicles as they were displayed around the ballpark during the games. The sponsoring dealership sold 26 cars in March and April as a direct result of the ushers' knowledge of the cars! The ushers became an extension of the sales team!
Rochester Red Wings - "Disney Princess Night"
HUGE success! Not expensive to do, and the young girls stood in line to see their favorite princess for as long as it took! Also had "Batman Night", where the original TV "Robin" (Burt Ward) made an appearance.
Williamsport CrossCutters - "Halfway to Christmas"
June 25th - the team wore special "Ugly Christmas Sweater" jerseys, auctioned for Toys for Tots afterward. Also of note: they had an "Amish Mafia" night that had an appearance of Levin and Levi. (Some people complained that the team was glorifying organized crime, but some people apparently didn't get that the show isn't real!) Another note: the Cutters Drum Line was new - 10-12 kids decked out in jerseys and caps; played on the field during pre-game at several home games, and they got more comments from fans than the fireworks!
Mississippi Braves - "75th Anniversary of Lou Gehrig's Speech"
Had (3) separate ALS events - a golf outing, a walking event (1,000 participants!), and a night at the park where a relative of Lou made an emotional appearance. Huge!
Madison Mallards - "Office Space" Night
In honor of the classic movie "Office Space", a cast member from the movie (actor Richard Riehle) made an appearance, and fans got to destroy 75-80 copiers and fax machines with baseball bats on the field after the game a la Disco Demolition. (A tarp was laid on the field, and the machines paced on the tarp to make cleanup easier.)
Wisconsin Rapids Rafters - "Educators' Appreciation Night"
Essay contest - 500 participants (1st thru 12th grade). Had a contest to choose which local teacher would have a bobblehead made of them to give away that night! The winner had lots of former students there to honor him or her.
El Paso Chihuahuas - "Humane Society Jerseys"
Eye-catching jerseys created for a "Bark in the Park" night; caught the national attention of the media, including Keith Olbermann, who actually wore one of the jerseys and bought one. A good twist... they rescued a dog ("Lola") and appealed to the fans to adopt her as a part of the promotion. Lola found a home, and the Humane Society was given a check for $20K! Note from the Chihuahuas staff to all MiLB teams: "Be unapologetic and commit to live your brand. Not everyone will love everything you do, but don't be afraid to be who you are out loud." Amen, brother!
-- Bill Guertin is CEO (Chief Enthusiasm Officer) of Stadium Gorilla, a sales training and consulting firm to dozens of teams in the professional sports industry. He is the author of two books, including The 800-Pound Gorilla of Sales: How to Dominate Your Market, and speaks regularly to corporate and conference audiences on improving sales performance. Learn more at www.StadiumGorilla.com, or reach Bill directly at This email address is being protected from spambots. You need JavaScript enabled to view it..